Ceremony - Rebirth - Magic - Love
November 9 to 16, 2019
Sian Ka'an, Mexico
Welcome Home to Your Magic
Whether you always remember it or not, you have direct access to magic. You are full of your own unique medicine. And you are so wildly wise beyond reason, carrying within your flesh and bones the answer to anything and everything you may have ever sought outside of yourself.
You are an absolute miracle.
And yet most of us live in a world that completely diminishes our power. That causes us to doubt and question our intuition, our feelings, our desires, and our tremendous capacity to just know. Most of us live in a world that blinds us from the incomparable beauty that is our very nature.
Heart of the Maya is your sacred invitation to reclaim your right to re-member who you really are, through the innate wisdom of your own body, the ecstatic pleasure of your own aliveness, the incredible miracle of your own love, the unfaltering guidance of your own voice, and the unquestionable intelligence of the wild within you.
Will you join us for this very magical homecoming
to your true self?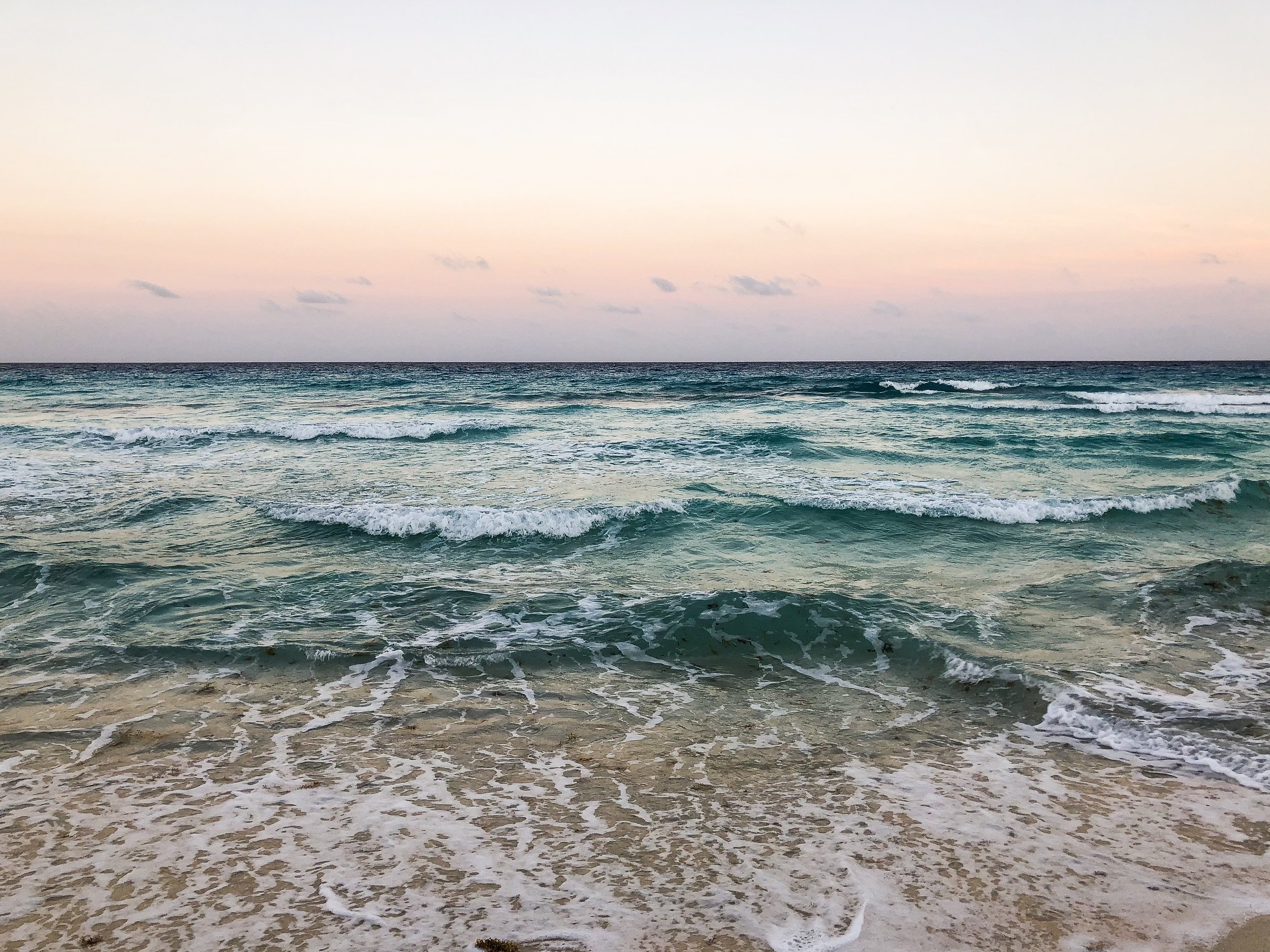 Your Invitation
For seven days and seven nights, on the white sand shores of the Mayan Riviera, surrounded by nothing but jungle for miles and miles, we will re-awaken the magic, the secrets, and the wisdom that women have known since the beginning of time.
Journeying around the shamanic medicine wheel, calling in the sacred Earth Mother, Snake of Transformation, Jaguar of Rebirth, Hummingbird of Truth, Eagle of Vision, and Father Sky, we will journey with the the Mayan and Aztec Goddesses Ixcacao, Quetzalcoatl, Ixchel, Mictecacihuatl, and many more, and re-member the magical child, the sensual maiden, the fierce mother, and the wise witch within all of us, uniting our bodies and souls in love.
This will be an unforgettable week of true sacredness, authentic sisterhood, mind blowing practices, deep self reclaiming, emotional wholeness, magical ceremonies, and joyous playtime in wild tropical paradise. Be prepared to rapidly transform, to fall in love with your humanness, and to remember yourself at the deepest level.
Our Heaven on Earth Sanctuary
Miles from civilization, our luxurious villa Casa Maya Kaan sits in the middle of the Sian Ka'an biosphere. This is an unspoiled ecological reserve and UNESCO World Heritage Site, along Mexico's Riviera Maya, just 12 Km South of vibrant Tulum.
We have the Caribbean ocean at our doorstep, and the mangroves in our backyard. This is a true paradise with deserted beaches for miles, a starry night sky, and space to deeply connect with your innermost self and one another.
We have huge spaces for lounging and connecting inside of of our gorgeous home, a big deck with outdoor seating, big cozy beach loungers in front of the ocean, outdoor glamping tents, and indoor bedrooms with private bathrooms. PLUS we have a gourmet private Mexican chef who will nourish us with delicious and healthy locally sourced meals.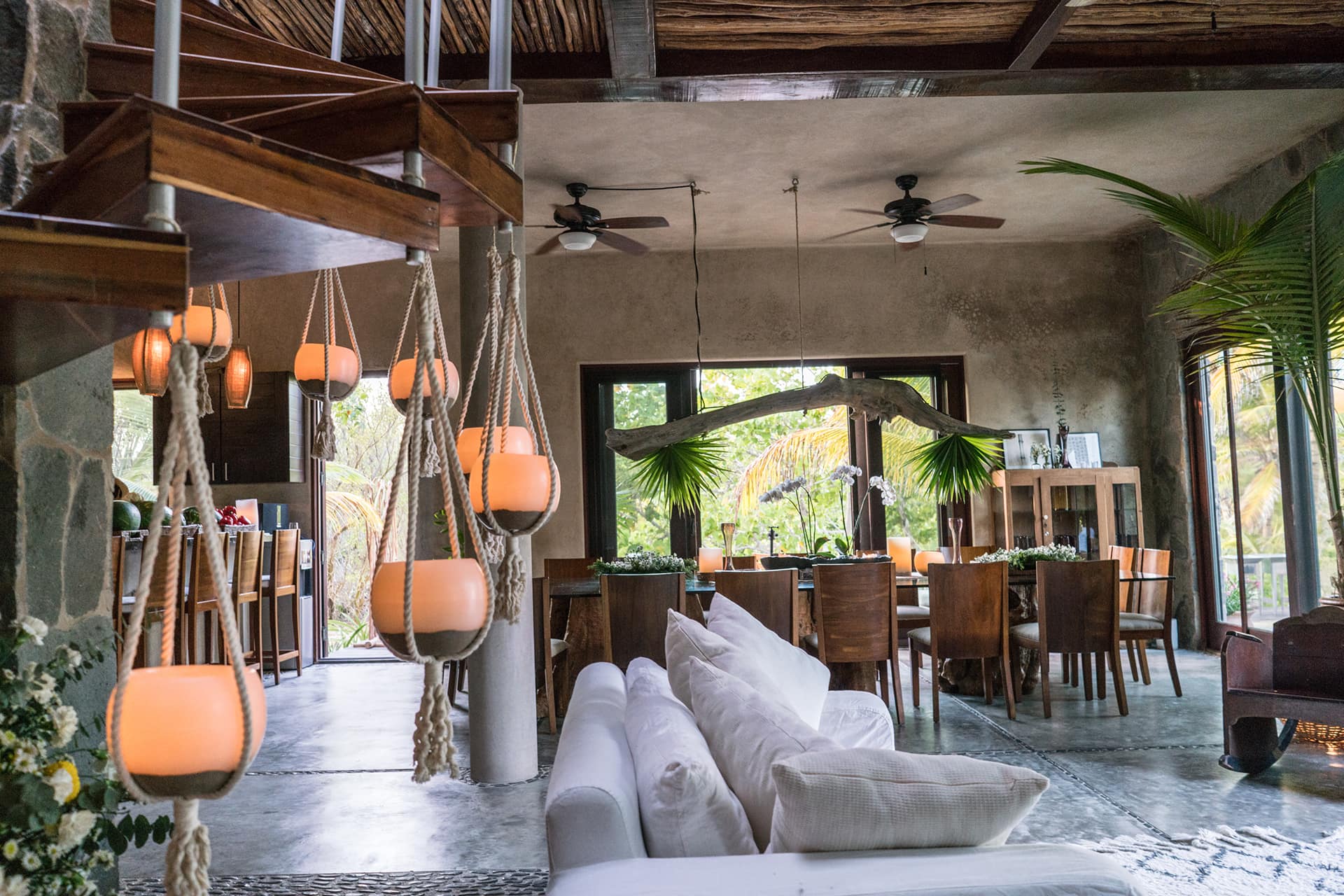 Luxuriate yourself in our stunning villa with spacious rooms and bathrooms, and huge common areas for lounging and connection. Or connect down with the earth in our beautiful glamping tents just beside the house in our garden. Everyone has access to our incredible house with many common areas.
We're here to nourish your body and soul with the most delicious vibrant food in Mexico, prepared by our in house private chef. Mouth watering tropical fruit, bowls brimming with guacamole, and all the flavors of Mexico adapted to our healthy Goddess needs and desires.
Daily Embodiment Practices
We go deep to discover our truth and access our essence. All of our practices are a form of Body Intimacy, a unique modality I personally developed over years of practice, that weaves multi-dimensional yoga, transcendental dance, breathwork, priestess rituals, and deep intimacy with your flesh and bones. Women describe our practices as nothing short of mind blowing.
Daily women's circles and ceremonies
Each day we will come together in sacred sisterhood, in circle as women have done for eons, to share our hearts and our wisdom with one another. Ceremonies will vary and include: Cacao Ceremonies, Full Moon Beach Ceremony, and Mayan Rebirth Ceremony. This is a very heart opening time to connect with your womanhood through the reflections of one another.
On one of our evenings, we will enter back into the womb of the Earth through the traditional Mayan sweatlodge ceremony called "Temescal." In the temescal we sweat our prayers, commune with the ancestors, release layers upon layers of suffering, and receive tremendous wisdom for our journey ahead. Leave reborn. Temescal is one of the most powerful and profound rituals you can ever do.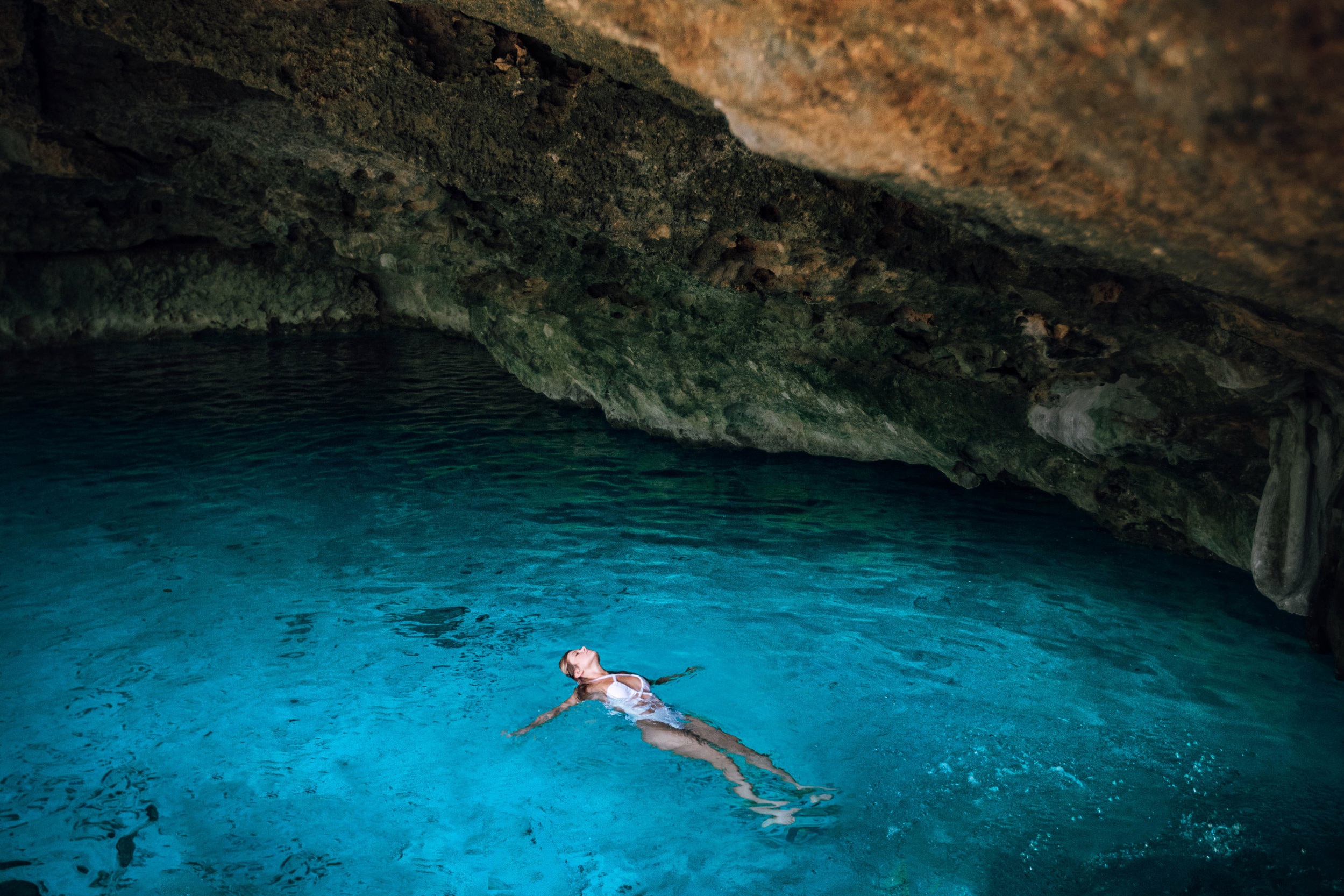 Nature is the clearest reflection of our truest selves, and we will connect with the magical gorgeous paradise land that surrounds us. Our home is a playground in and of itself, with our location in the biosphere, but we will also have some magic excursions to special sacred cenotes and ruins. Childlike wonder is an essential ingredient in fully enjoying life and opening our hearts to our purpose.
We create an environment of real deal FAMILY, TRIBE, CONNECTION, and SISTERHOOD. This is a space where you can truly be yourself and fall in love with the women opening their hearts right beside you. Our highest intention is to support one another in birthing more love into the world. Everything we do is for Love.
You already know everything. All of the answers live inside of you. Your body is the ultimate guide in bringing you deeper and deeper into your wisdom and your highest potential.
This is the foundation for ALL of our practices. Handing the power back over to you, your body, your soul, your heart, your wisdom. Dancing back into union all parts of you, supporting you on your path to becoming a fully integrated, whole, open hearted, sensually awakened, human being.
Our practices are DEEP. Delicious. Awakening. And unconventional. Expect the unexpected. A fusion of eyes closed dance meditation and sensual feminine intuitive flow with a sweet dose of deepening yin and restorative. We practice through ceremony. Sharing our wisdom in circle as women have done for many many many eons. All, all-ways, with the intention of being more authentically ourselves, and more fully in love with our human experience.
A taste of the practices we will share…
Awakening eyes closed dance meditation
Intuitive feminine yoga flow
Healing yin and restorative yoga
Women's circles with authentic sharing and songs
Cacao ceremonies for opening the heart chakra
Vision quests and energy healings
Breathwork ceremonies for connecting with your higher self
Mayan sweatlodge ceremony for rebirth with local shamaness
Full moon beach ceremony
We come together first and foremost to practice. If you sign up, please intend to attend to all of our practices with a willingness to dive in, ride the waves of emotions, and offer presence to discomfort. Your devotion to showing up in this way offers a ripple of healing into our sisterhood and far beyond what we experience together this week.
Our Daily Flow
Each morning in Sian Ka'an the sun rises up from the Caribbean ocean, painting the sky and the sea in shades of lavender and pink. We begin our days in our open air yoga shala, offering our heart intentions and coming deep into our bodies.
Our practices will center on each side of the wheel (North, East, South, West, Earth and Sky) as gateways into our own seasons, phases of life, deaths and rebirths. Expect a fusion of intuitive yoga flow, eyes closed trance dance meditation, dynamic breathwork, and other unique practices to help you access a deep reservoir of aliveness and sanctuary in your being. We'll also journey through ceremony, drinking medicinal cacao to open the heart, sharing our voices through song, speaking our wisdom, dancing, and receiving the energies of the land. We will also have a powerful Temescal (Mayan sweatlodge) rebirth ceremony, guided by a local shamaness. AND a magical full moon ceremony!
With our sanctuary deep in the Sian Ka'an biosphere and UNESCO Heritage Site south of Tulum, we are in a magical playground of jungle, lagoons, Caribbean beaches, and cave cenotes. There will be plenty of time for long beach walks and self reflection, and also some adventures to special nature spots. Our home has access to the biosphere lagoon, where we can sit on our private dock and watch the birds in the mangroves at sunset, then dine out on our deck under the stars and let the waves sing us to sleep.
Absolute bliss.
Get Ready For
Magic
In a world where so many have forgotten the essential gift of magic, we are here to remember it back to life. Our stunning environment reminds us of the magic of the natural world, and our sacred practices remind us of the magic within us. Magic is essential for bliss.
Authenticity
This is the real deal. Our practices, circles, and environment supports you in letting go of your masks so you can become the full expression of who you really are. Liberation!
Luxury
We stay in a gorgeous sanctuary, we nourish ourselves with the most vibrant healthy food, and we pour our entire heart and souls into every moment. So much intention, love, and energy goes into the creation of this retreat, to luxuriate you with the absolute best of the best, because this is what you deserve!
Intimacy
We know that tenderness is the great secret to opening the heart, and softly melt ourselves and one another in this pillowy bubble of love. Expect deep heart sharing, family dinners under the stars, snuggles on the sofa, and so much warmth and connection.
Play!
We are here not only to grow, but to ENJOY! To CELEBRATE this divine gift of being human and alive! We infuse our days with lots of childlike joy to remember the essence of who we truly are. Mermaiding in the Atlantic, playing in the jungle, dancing and singing for the pleasure of it, and taking magical adventures together.
Depth
We go deep. Within ourselves and with one another. You can expect to touch places inside of yourself that you have never touched before, with the most magnificently loving glowing self illuminating healing.
Expansion
Expect a quantum leap in self growth and perception of what's possible for you. No words, you simply have to experience it.
Love
Ultimately, we do what we do for love. Our highest intention is to bring more love into the world by creating a week that reminds us all how much love we deserve. We begin with ourselves, we expand into one another, we grow into our sacred circle, and we anchor this love within us to birth it more fully here on Earth.
Aloha love, I'm Camille and I'll be creating and guiding our week together.
My highest intention is and always has been to know myself as the same beauty I feel on deserted beaches at sunset under a crescent moon, to feel ecstatically alive in my body, to dance as a lover of the great mystery, to truly see others and be seen in my humanity, and to live as a reminder to the world that anything is possible and we are capable of absolute miracles. My life's work is to inspire women to live more fully in love with their bodies, one another, Mother Earth, and the paradoxical dance of life. Every part of you is sacred and I believe that with my whole entire heart.
My style of practice and teaching can be best described as feminine, dynamic, deep, and unconventional. While traditional yogic philosophy and asana sequences have formed the foundation for my practice, my joy has arisen through inventing new ways of connecting with the body that expand beyond any limits or labels. To me, nature is the clearest reflection of our true nature, and feeling her heartbeat as mine is the ultimate yoga. This is how I learn, so this is how I teach.
Along with my certification and training hours as a yoga teacher, I'm also a dance meditation facilitator and have trained in many healing modalities varying from breathwork to tantra to womb shamanism to sacred ceremony. On retreat I weave together various modalities to support you in remembering your wisdom, your innocence, your beauty, your truth. Learn more about my facilitation style and training here.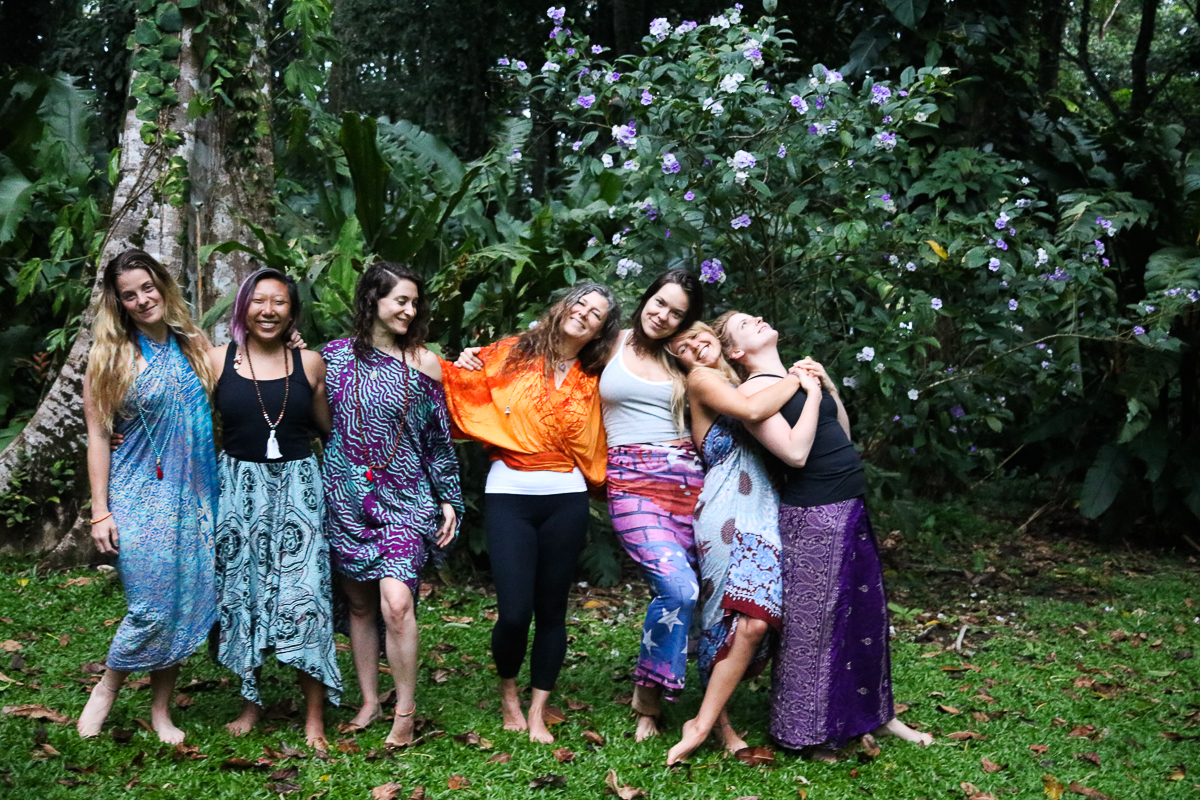 Testimonials from Past Retreats
"I thought I started my self growth journey in 2014 but that was surface child's play compared to a retreat with Camille. I had my mind blown, emotions unleashed, soul awakened, heart expanded and body enriched. I have never created such sacred bonds of sisterhood, selfhood or with nature. Every day was filled with mystery, magic and revelation. If you feel like a fire has burned out, dwindled or perhaps is waiting to be lit inside of you, this is the spark you need to ignite. Prepare to shine like you've never shined in your life."
Alessandra, Ad Sales Rep, USA
"Going (on this retreat) has been the best decision I could have ever made. I knew the retreat would change my life, but I couldn't possibly imagine that it would be in that scale. My heart, eyes and mind have been expanded to a whole new dimension. Everything about the retreat is simply magical."
Letizia, Yoga Teacher and Women's Circle Creatrix

"I've felt disconnected from my body for my entire life and even though I've been practicing yoga for years, I've never felt this level of connection. Through the embodiment practices, I tapped into more expansiveness and sensation in my body than ever before. The dance meditation, the music, and the prompts helped me go so deep into my body and into my psyche to flush out stored memories and trauma. I let go of so much stagnant and stuck energy and feel like I've come out of the retreat rebirthed- fresh and new. Throughout the week, I was reminded of our divinity, our sacredness, the sacredness of everything, and our connection to everything. I felt like I had really embodied the Priestess- fully human and fully divine."
Mona Luna, Yoga Teacher and Women's Circle Creatrix at monalunalove.com

"My experience working with Camille has been profound and deeply transformative. She has the innate gift of seeing through a person to their higher self, and she is able to work absolute magic on that plane. I can't express how powerful it is to have someone so tuned in guiding you through personal growth."

Jen, Geologist and Poet
This Retreat is for You If...

You feel a deep soul craving to discover your own form of spirituality, beyond what you've ever been told or taught, a path towards your own authentic truth that fully honors your human experience, your emotions, your desires, and even your fears.

_

You know that there is profound magic, wisdom, and power within you, and you're ready for a deep dive reset into your body, heart, and spirit to get your mind on board with what your soul came here to do.

_

You are ready to shine. You know it's time to show up for yourself and the world more fully, and you're ready to make peace with your past, your emotions, your wounds, your traumas, and also your wishes, your worthiness, and your dreams, to radiate as brightly as you know you can.

_

You feel a burning desire, or a quiet whisper, calling you to to go deeper into the feminine, to intimately know the Goddess within the great web of creation and within your own flesh and bones.

_

You get a twinge of excitement and also fear when you hear the words Ixchel, Maya, Ixcacao, Quetzalcoatl, and you want to dive all the way into the mysteries of the ancient Mayan mythology and secret herstories, to see what they want to activate within you.

_

You know that your path requires healing the wounds of sisterhood, not just for yourself but for our collective, and feel fully seen, met, and understood by being vulnerable and compassionate in a safe group of women.

_

You want to heal the wounds of your past, with your mother and father, with your past lovers, with your sisters, with your self, and with the collective feminine and masculine energies carried within your DNA, for the sake of living true to who you really are and living out your full potential.

_

You've been on retreat with me in the past and you want to go even deeper into what opened up for you already. Every retreat is a quantum leap and builds exponentially! This is going to be an epic week that has never been done before… anywhere… ever. And it will likely never been done again. If you feel the call, answer.

_

You've been wanting to come on retreat with me for years… and this one is really calling your name. Sister, what are you waiting for?

_

Something in your heart is telling you yes right now and you want to fully trust in your intuition. Listening to this voice is how we anchor the vibration of love more fully into our waking reality. It's the most important thing we can do.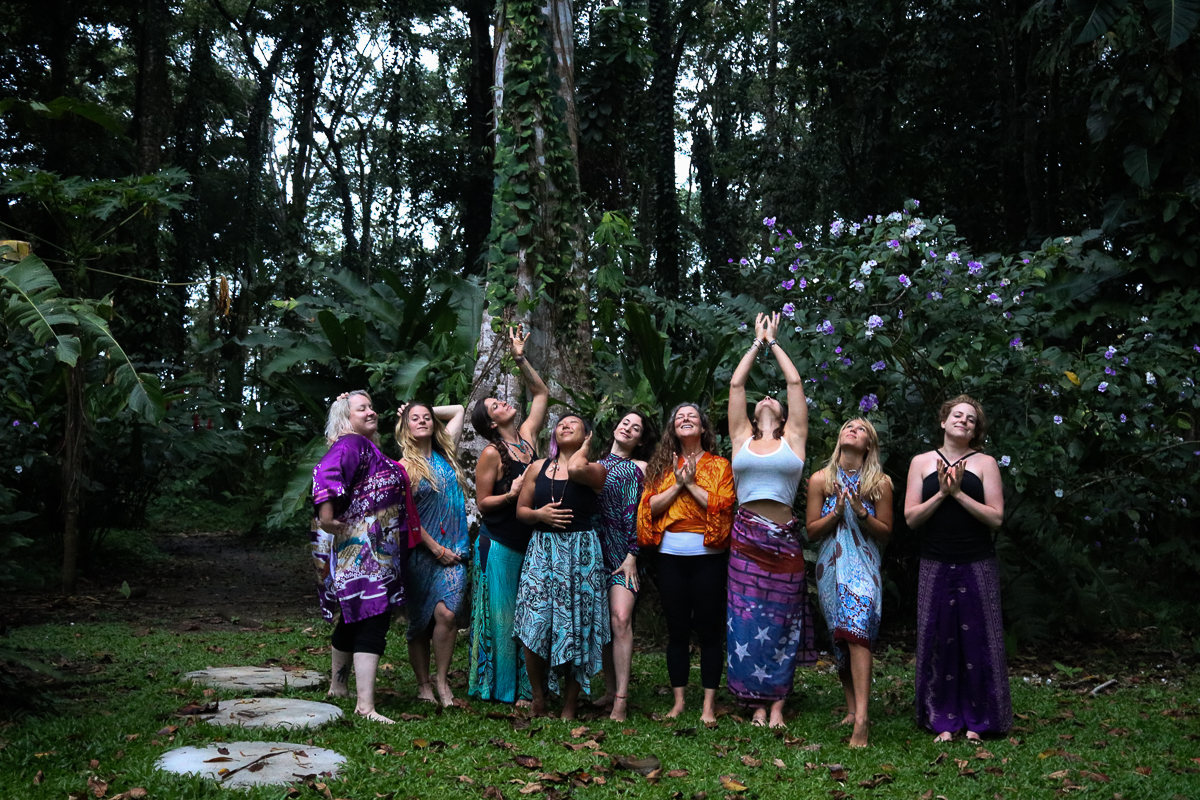 What Does Your Heart Say?
If you're ready to dive deep into the Goddess within you, through trusting your own heart, awakening your flesh and bones, reclaiming your inner magic, and treasuring the sacredness of Mother Earth, while held in the authentic love bubble of our group of sisters, we'd be honored for you to join us!

Price includes meals, accommodation, daily practices, ceremonies, transportation to and from Tulum, and some magical group excursions.
Please arrive with an open heart, a willing mind, an able body, and a devotion to attend all of our practices for the sake of yourself and for the sake of our group energy.
**Early Bird $400 off if you book before July 15th!!**
Private Indoor Ensuite Room (Sold Out)
Double bedroom with independent entrance, air conditioning, and ensuite bathroom. It is located on the ground level of the property and is smaller than the top level floor guest suites, but still with an excellent view of the garden and beyond, through the forest to the ocean.
**$3650, Price increases to $4050 after July 15th!**
Shared Indoor Ensuite Room - $3450 (3 left)
Luxurious room with two big beds, couches for lounging, private terrace, air conditioning, and your own ensuite bathroom. Prices are per person, and maximum two people per room (one for each bed). Best option for those who want comfort from the outdoors and climate controlled environment.
** Price increases to $3850 after July 15th! **
Private Outdoor Glamping Tent - $3050 (3 left)
Outdoor luxury glamping tent all for yourself in the heart of nature. Tent has queen size bed and includes comfortable shared outdoor bathrooms and hot showers. Best option for those who want privacy and magical connection with nature.
** Price increases to $3450 after July 15th! **
Shared Outdoor Glamping Tent - $2650 (1 left)
Outdoor luxury glamping tent shared with one other sister. Tent has two single beds and includes comfortable shared outdoor bathrooms and hot showers. Best option for those who like the sleepover vibe and who want the most cost effective room choice.
** Price increases to $3050 after July 15th! **